Posts for tag: dentures
By Aaron S. Berger, DMD
January 21, 2021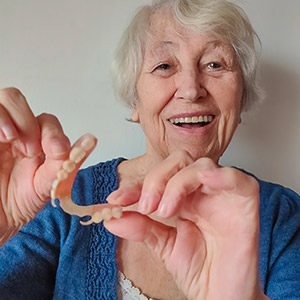 The timing around losing a tooth may not always sync with your financial ability. It's not unusual for people to postpone getting a dental implant—by far the best option for replacing a missing tooth—because of its expense.
So, if you have to postpone dental implants until you can afford them, what do you do in the meantime to keep your smile intact? One affordable option is a temporary restoration known as a flexible removable partial denture (RPD).
Composed of a kind of nylon developed in the 1950s, flexible RPDs are made by first heating the nylon and injecting its softened form into a custom mold. This creates a gum-colored denture base to which prosthetic (false) teeth are affixed at the exact locations for missing teeth.
Differing from a permanent RPD made with rigid acrylic plastic, a nylon-based RPD is flexible and lightweight, making them comfortable to wear. They're kept in place with small nylon extensions that fit into the natural concave spaces of teeth. And, with a bit of custom crafting, they can look quite realistic.
RPDs are helpful in another way, especially if you're waiting for an implant down the road: They help preserve the missing tooth space. Without a prosthetic tooth occupying that space, neighboring teeth can drift in. You might then need orthodontic treatment to move errant teeth to where they should be before obtaining a permanent restoration.
Flexible RPDs may not be as durable as acrylic RPDs, and can be difficult to repair or reline if needed to adjust the fit. Though they may not stain as readily as acrylic dentures, you'll still need to clean them regularly to help them keep looking their best. This also aids in protecting the rest of your mouth from dental disease by removing any buildup of harmful bacterial plaque on the RPD.
But even with these limitations, patients choose RPDs for the simple fact that they're affordable and temporary. And the latter is their greatest benefit—providing you a "bridge" between losing a tooth and replacing it with a durable dental implant.
If you would like more information on tooth replacement options, please contact us or schedule an appointment for a consultation. You can also learn more about this topic by reading the Dear Doctor magazine article "Flexible Partial Dentures."
By Aaron S. Berger, DMD
July 31, 2020
Generations have depended on dentures to effectively and affordably replace lost teeth. But they do have a major weakness: They contribute to jawbone loss that creates not only mouth and facial problems, but can also ruin a denture's fit.
Bone loss is a normal consequence of losing teeth. The biting forces normally generated when we chew stimulate new bone to replace older bone. When a tooth is missing, however, so is that chewing stimulation. This can slow bone replacement growth and gradually decrease the density and volume of affected bone.
While dentures can restore dental appearance and function, they can't restore this growth stimulation. What's worse, the pressure of the dentures against the gum-covered jaw ridge they rest upon may irritate the underlying bone and accelerate loss.
But there is a solution to the problem of denture-related bone loss: an implant-supported denture. Rather than obtaining its major support from the gum ridges, this new type of denture is secured by strategically-placed implants that connect with it.
Besides the enhanced support they can provide to a denture restoration, implants can also deter bone loss. This is because of the special affinity bone cells have with an implant's imbedded titanium post. The gradual growth of bone on and around the implant surface not only boosts the implant's strength and durability, it can also improve bone health.
There are two types of implant-supported dentures. One is a removable appliance that connects with implants installed in the jaw (three or more for the upper jaw or as few as two in the lower). It may also be possible to retrofit existing dentures to connect with implants.
The other type is a fixed appliance a dentist permanently installs by screwing it into anywhere from four and six implants. The fixed implant-supported denture is closer to the feel of real teeth (you'll brush and floss normally), but it's usually more costly than the removable implant-supported denture.
While more expensive than traditional ones, implant-supported dentures still cost less than other restorations like individual implant tooth replacements. They may also help deter bone loss, which may lead to a longer lasting fit with the dentures. Visit your dentist for an evaluation of your dental condition to see if you're a good candidate for this advanced form of dental restoration.
If you would like more information on implant-supported dentures, please contact us or schedule an appointment for a consultation. You can also learn more about this topic by reading the Dear Doctor magazine article "Overdentures & Fixed Dentures."