Posts for tag: oral hygiene
By Aaron S. Berger, DMD
January 08, 2019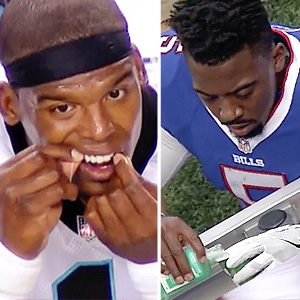 Everyone knows that in the game of football, quarterbacks are looked up to as team leaders. That's why we're so pleased to see some NFL QB's setting great examples of… wait for it… excellent oral hygiene.
First, at the 2016 season opener against the Broncos, Cam Newton of the Carolina Panthers was spotted on the bench; in his hands was a strand of dental floss. In between plays, the 2105 MVP was observed giving his hard-to-reach tooth surfaces a good cleaning with the floss.
Later, Buffalo Bills QB Tyrod Taylor was seen on the sideline of a game against the 49ers — with a bottle of mouthwash. Taylor took a swig, swished it around his mouth for a minute, and spit it out. Was he trying to make his breath fresher in the huddle when he called out plays?
Maybe… but in fact, a good mouthrinse can be much more than a short-lived breath freshener.
Cosmetic rinses can leave your breath with a minty taste or pleasant smell — but the sensation is only temporary. And while there's nothing wrong with having good-smelling breath, using a cosmetic mouthwash doesn't improve your oral hygiene — in fact, it can actually mask odors that may indicate a problem, such as tooth decay or gum disease.
Using a therapeutic mouthrinse, however, can actually enhance your oral health. Many commonly available therapeutic rinses contain anti-cariogenic (cavity-fighting) ingredients, such as fluoride; these can help prevent tooth decay and cavity formation by strengthening tooth enamel. Others contain antibacterial ingredients; these can help control the harmful oral bacteria found in plaque — the sticky film that can build up on your teeth in between cleanings. Some antibacterial mouthrinses are available over-the-counter, while others are prescription-only. When used along with brushing and flossing, they can reduce gum disease (gingivitis) and promote good oral health.
So why did Taylor rinse? His coach Rex Ryan later explained that he was cleaning out his mouth after a hard hit, which may have caused some bleeding. Ryan also noted, "He [Taylor] does have the best smelling breath in the league for any quarterback." The coach didn't explain how he knows that — but never mind. The takeaway is that a cosmetic rinse may be OK for a quick fix — but when it comes to good oral hygiene, using a therapeutic mouthrinse as a part of your daily routine (along with flossing and brushing) can really step up your game.
If you would like more information about mouthrinses and oral hygiene, contact us or schedule a consultation.
By Aaron S. Berger, DMD
October 30, 2018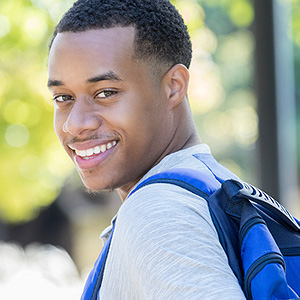 Starting college is one of life's biggest transition moments, the first time many young people can truly say they're on their own. Their freshman year can be both exhilarating and frightening.
The reason for this seeming dichotomy is that both exciting opportunities and harmful pitfalls abound in college life. One such pitfall that's often overlooked involves dental health: it's all too easy to neglect good habits and adopt bad ones. But while it may not seem as harmful as other dangers, inattention to your dental health could create consequences that plague you long after graduation.
But being diligent about dental care can help you avoid serious problems now and in the future. At the top of the list: brush and floss your teeth daily and continue seeing a dentist at least twice a year. Hopefully, your parents or guardians have trained you in these vital habits—and they're definitely habits you should continue for the rest of your life.
Close in importance to good oral hygiene is a healthy diet. Besides eating primarily "natural" food—fresh fruits and vegetables and less-processed foods—you should also set limits on your sugar consumption. This carbohydrate is a primary food for disease-causing bacteria, so limiting as much as possible the sugar you eat to just meal times will lower your risk for tooth decay.
Another area in which you should tread wisely is alcohol consumption. Besides the obvious consequences of alcohol abuse, immoderate drinking can also cause dental problems. Alcohol (and smoking) tends to dry out the mouth, which can increase the levels of oral bacteria and in turn increase your risk of both tooth decay and periodontal (gum) disease.
Finally, avoid getting piercings involving the lips, mouth or tongue even if it's the thing to do. Piercing hardware can chip teeth and contribute to the shrinking back of the gums (recession). And be sure you practice safe sex: unprotected sexual activity could expose you to viral infections that cause oral problems including cancer.
Your college years should be an exciting and memorable experience. By practicing these and other common sense dental habits, you'll be sure to remember these years fondly.
If you would like more information on dental care during college, please contact us or schedule an appointment for a consultation. You can also learn more about this topic by reading the Dear Doctor magazine article "10 Health Tips for College Students."